!Up Close and Personal With A Top Affiliate and The Reality Reality Realty Team!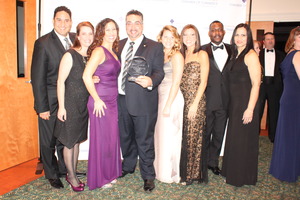 We took to the streets and asked some of our most successful affiliates a series of questions to see what makes them a top affiliate. This month we turn to Sam Cachola, Broker affiliate with Reality Realty in Stafford Virginia.

HFH: What made you want to get involved with Homes for Heroes?
Sam:
Speed to Market! I was already giving back to my Hero clients. So much so that I was in the middle of starting my own company that supported the SAME Hero population. When my team was doing our due diligence we found the HFH team beat us to it! Once I got over my disappointment, I gave Homes For Heroes a call and evaluated whether or not it was pure of heart or a coupon/gimmick/bait switch. It was very important for me that the program be "pure" and not a gimmick. I am a Marine and a former Polygraph Examiner, married to a Nurse, and all my friends are Heroes i.e. fire fighters (Dear friends are Chiefs ,Lieutenants EMT), Law Enforcement ( Capt, Detectives or Feds), and some are Pastor/Deacons. I could not in good conscience be a part of a gimmick in anyway shape or form. After lengthy discussion with the team, doing my own due diligence and validating the "Heart" of the program I decided to become an affiliate.
Caleb Shaw, our Texas Affiliate and Air Force Veteran, says it best , "This isn't a marketing scheme, or get rich quick at the expense of Heroes, this is real, there is no catch!" Once I saw the sincerity in Caleb and verified it with my due diligence it was a no brainer. I never wanted to own the idea. I wanted greater impact for my Hero clients and community. The way I figure it HFH had saved me six figures in marketing material, back end systems, and time! All I had to do was plug in and focus on my "WHY" which was reaching more Heroes, impacting their live positively, and making a difference in the community I live and work in.
Speed to Market!
HFH: What marketing techniques do you find to be the most successful for you?
Sam:
This is a service and folks need to understand that! Its not about a coupon or spending thousands on a marketing blitz. It's a program rooted in service, therefore go out an serve. "Kiss babies and squeeze palms". Educate folks on how you can both help them and their communities with the program. If you want something you must give it! Heroes from all disciplines pride themselves on giving support, ergo that is what they give that is what they want! They could give a shit about you 100k radio add or "savings" program. Give them what they want not what you think they want! Pretty good advice for any relationship actually, and make no mistake about Homes for Heroes, this is a relationship! You will either address the needs, embrace your responsibility to meet those needs, or it will wither and die like any other relationship.
HFH: Have you tried something that didn't work as well as you had hoped?
Sam:
Home Shows early on. Hind site being 20/20 no surprise, focusing on the house/discount is not at the heart of the program. Find opportunities to touch the heart and you will get the jump start!
HFH: Is there something you've done that turned out really well?
Sam:
Any event where you can talk to people directly and educate on the program, the process and its ability so change lives!
HFH: Where do you get most of your hero clients from?
Sam:

Direct Marketing Events initially, BUT Referrals are the majority, period! So every Hero client you touch you better take care of. Heroes talk and will refer, its our nature. Do me right I will do you right. The inverse is true, screw one you slam the door on all! "Screw me on accident or screw me on purpose I'm still screwed!", that is what I say. You better bring you A game, be ready to serve and have your back end process ready to nurture! Its about the Heart not the coupon!
HFH: What do you feel makes you so successful with the Homes for Heroes program?
Sam:

CSI. Clarity/Sincerity/Integrity! It does not take an investigation to figure this one out. Get clear on why you want to be a part of the program? Sincerity in all you do, that is what Heroes bring to the game daily, they deserve, earn and expect it back!Treat every hero transaction with the integrity you would like to be treated with yourself!
HFH: If you could give one piece of advice to other affiliates what would it be?
Sam:

Stop treating the program like a coupon and get your "group on"! Take it to the people, satisfy their needs! Zig Ziglar says it best, "If you help enough people get what they want you will get what you want". Its not rocket science, but is certainly an applied science. Never forget what Zig says about sales,"Sales is something you do FOR people not TO people". Focus on the FOR and you will never worry about what happens TO your business!